Straight Razor Shaves in Rancho Cucamonga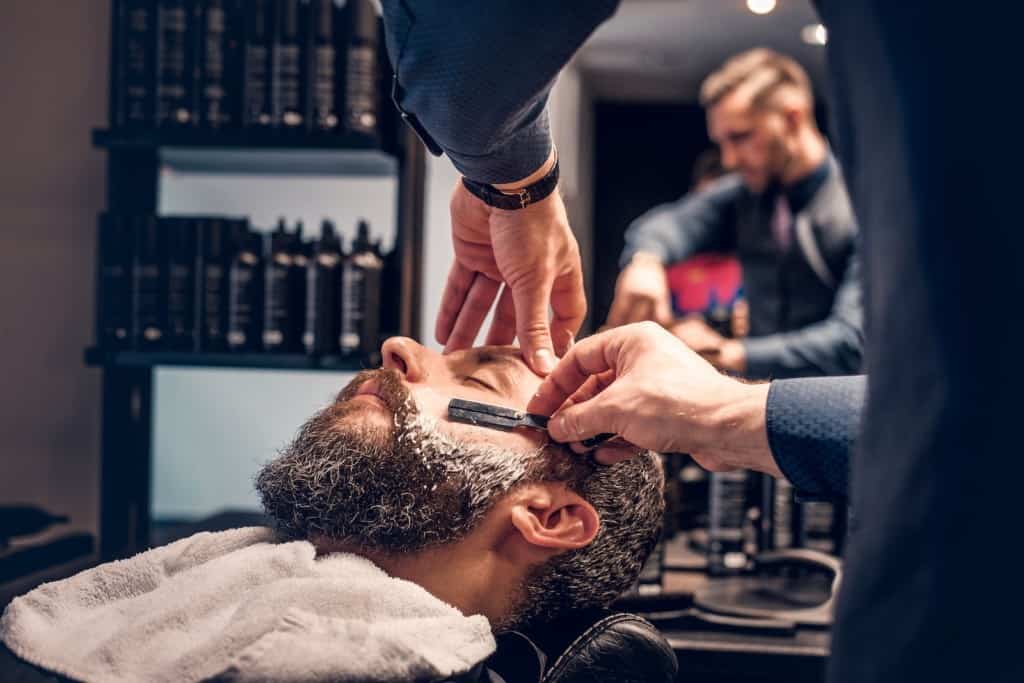 Straight razor shaving is the oldest of all forms of hair removal. It was first discovered in Europe during the 15th century and has since been used by many men for their facial hair. Today, with modern technology and safety measures, straight razors are still used to remove unwanted body hair.
Straight razor shaving is a great way to get the closest shave possible. If you're looking for an unforgettable straight razor shaving experience, look no further than our Rancho Cucamonga barbershop. The barbers at 18|8 are experts when it comes to straight razor shaving and will give you the best shave possible, taking care of every detail, and ensuring that your shave is smooth and comfortable. If you want to learn more about straight razor shaving and our other barbering services, then keep reading!
Our Barbering Services
Classic Straight-Razor Shave
Gone are the days of shaving in the shower. Here at our Rancho Cucamonga men's salon, we start your 30-minute shaving experience with a hot towel treatment to open up your pores and soften your facial hair. This is followed by a hot lather to moisturize your skin and help the blade glide smoothly. Our expert barber will then use a straight-edge blade shave for the smoothest shave you'll ever experience. The last step is to apply a cold towel on the face for about a minute. This will help close your pores and leave your skin feeling refreshed. If you'd like to extend the relaxing experience, feel free to ask your stylist about our rejuvenating facials that will leave you with a renewed sense of well-being.
Men's Shave Package (Classic Shave + Executive Haircut)
The Classic Shave & Executive Style Haircut combo is perfect for anyone wanting a sharp, polished and professional look. Our experienced stylists will take care of everything for you, leaving you with a smooth, clean shave and stylish haircut. Our men's shave package includes our Classic Straight-Razor Shave and our handcrafted Executive Haircut. Our stylists will craft a haircut that caters to your personal needs – head shape, hair type and density so they can give you that stylish look with a touch of fashion. Our Executive Cut also includes a complimentary neck and shoulder massage, along with a shampoo and conditioning treatment.
Head Shave
Head shaves can help reduce the appearance of thinning hair or hair loss and stimulate growth. The straight-edge razor is used to get closer to the scalp, making it easier to get all of the hair off without any nicks or cuts on the scalp and providing an irritation-free experience complete with a cold towel finish. Head shaves can also help increase blood circulation in the scalp, which helps prevent dandruff and dry skin. Schedule your appointment with one of our master barbers and embrace that bold and clean look with our professional head shave.
Classic Beard Trim
There is more to a beard than meets the eye. It can be an important part of your appearance and identity, but it also requires proper maintenance to keep it healthy and looking its best. During a beard trim, our professional barbers will make sure all of your facial features look their best by carefully trimming the hair around them, giving your beard shape, and helping your face look neat and clean.
Book Your Appointment at our Rancho Cucamonga Men's Salon
At 18|8 Rancho Cucamonga, our staff specializes in both traditional and innovative barbering techniques to help you achieve your desired look. We also offer a wide array of services including haircuts, facial treatments, scalp treatments and other grooming services. Give us a call to book your appointment or visit our online booking to reserve a day/time that's convenient for you. We look forward to seeing you soon and helping you discover a barbering experience you will always remember!
PHONE:
OUR LOCATION:
7220 Day Creek Blvd.,
Suite 146,
Rancho Cucamonga, CA 91739
HOURS:
MON: Closed
T-F: 11am-7pm
SAT: 9am-5pm
SUN: 11am-4pm