Men's Haircuts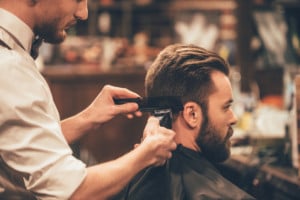 We might be a full-service salon, but we recognize that nothing else matters unless we can deliver exceptional men's haircuts. To do so, all of our stylists and barbers are immersed in the American Crew Menswork Method. You've probably noticed that men's grooming is a booming industry – whether it's a trendy new barbershop concept or the latest "must have" pomade, everyone seems to want to cash in on this growth. The same is true behind the scenes, as beauty schools and product brands sprint to tweak their cutting curriculum so they can capitalize on the emerging male market.
But true to form, 18|8 Elm Grove doesn't chase flash-in-the-pan ideas and we certainly don't employ gimmicks. Which is precisely why we have partnered with American Crew, a brand that has been committed to men's grooming for over 25 years. Built from the ground up focused exclusively on meeting the unique needs of the male clientele, this is the definitive technical approach to men's cutting. With an established presence and a commitment to continuous innovation, their method is the foundation that allows us to provide you with the best haircuts in town.
Our Cutting Method
Don't assume that just because you see American Crew on your current barber shop's shelves that they employ a similar method. It's a market-leading brand and their products are widely available, but it is an elite few salons and barbershops that can truly implement the Menswork Method. Those of us that do are able to tailor a great cut based on your individual head shape and hair density. Trust us, the difference is noticeable.
At 18|8 Elm Grove, you won't see clipper guards – a guard cuts all your hair to the same length and results in your haircut reflecting the underlying shape of your skull. If you're that lucky fellow with a perfectly shaped skull, this just might work for you. But the rest of us benefit greatly from a talented stylist that can analyze our bone structure and strategically build or reduce weight to craft a haircut that fits us perfectly. The best way to think of the 18|8 Elm Grove approach is to compare the difference between an off-the-rack vs. a custom-tailored suit. The former might be acceptable, but the latter is virtually guaranteed to fit you better.
We also forego the thinning and texturizing shears – instead of haphazardly hacking away dense hair, we prefer a Feather razor to strategically target troublesome areas and remove bulk with intention. You also won't see us using neck trimmers because, well, we have the skills to handle a straight razor instead.
Our Process
We've upgraded the classic barbershop from more than just a place for a guy to get a cut, we've turned it into an experience. If you consider getting a haircut just another errand to cross off your list, you owe it to yourself to see what we're all about. At 18|8 Elm Grove, you'll be greeted with a complimentary local beverage before you're offered a robe to keep you dry and hair-free. Your service will start with a consultation and a shampoo service right at your stylist's station (don't worry, we'll never parade you back and forth through the salon to a wash station) before we work our magic. Your service will conclude with a luxurious Bay Rum hot towel service, leaving you relaxed and stress-free.
Regardless of the service you choose, you'll be treated like royalty at 18|8 Elm Grove. Check out the list below and see which one suits you.
Classic Haircut (Centre $40 / Senior $47 / Master $54)
Our signature service starts with a consultation and scalp cleansing leading into an expertly hand-crafted cut. We follow that with a straight razor neck shave, rinse, and scalp conditioning. The service concludes with an aromatic hot towel finish, blow dry, styling and final consultation. They don't do it like this anymore – after all, it's called a 'Classic' for a reason!
Distinguished Masters (gentlemen 65 and over), Students (aged 13-25, with valid ID), and Servicemen (military, police, fire, and EMT) all enjoy the Classic service starting at $32.

Young Masters (12 and under) are offered the Classic service starting at $30.
Masters & Young Masters (father & son 12 and under, visiting the same stylist together) each enjoy a Classic haircut starting at $62 for both.
Executive Haircut (Centre $43 / Senior $50 / Master $57)
You deserve the best. Our Executive service includes everything found in the Classic package as well as a five-minute hot stone neck & shoulder massage. So go on and pamper yourself. You've earned it.
Our Executive Members enjoy this service at a discounted price, along with a number of other exclusive membership benefits. Talk to your stylist about our membership program and let 18|8 Elm Grove simplify your grooming regimen while you enjoy the VIP treatment.

Buzz Cut (Centre $29 / Senior $34 / Master $39)
This service features all-over clipper cutting, but just because your cut might be less complicated, that doesn't mean you should accept lower quality. You'll still enjoy the full 18|8 experience and get the benefit of an experienced barber crafting your look.
Clean-Up (Centre $15 / Senior $17 / Master $19)
This is the perfect way to extend the life of your haircut. Pop in for an express service where we'll provide some maintenance around your ears and neckline.
Our Executive Members enjoy complimentary clean-ups.
Beard Trim (Centre $16 / Senior $18 / Master $20)
The hair on your face also needs to be properly shaped and groomed. We deal with beards of all shapes and lengths every day, so you can trust that we'll be able to perfect your look. Many of our guests like to pair a beard trim with a shave line-up.
More Than Just Great Haircuts
While everything starts with our world-class haircuts, it doesn't end there. Explore the rest of our great services and let us take care of all your grooming needs:
Contact 18|8 Elm Grove Today
Have any questions? Feel free to contact us or give us a call at 262-910-0188. If you're ready to experience the 18|8 difference for yourself, you can call to book or use our easy online booking platform. We can't wait to hear from you!
PHONE:
OUR LOCATION:
12898 W. Bluemound Road Elm Grove, WI 53122
HOURS:
Mon: 10:00 AM – 8:00 PM Tues: 10:00 AM – 8:00 PM Weds: 10:00 AM – 8:00 PM Thurs: 10:00 AM – 9:00 PM Fri: 10:00 AM – 8:00 PM Sat: 9:00 AM – 5:00 PM Sun: 11:00 AM – 5:00 PM
GALLERY
This error message is only visible to WordPress admins
Error: API requests are being delayed for this account. New posts will not be retrieved.
Log in as an administrator and view the Instagram Feed settings page for more details.