Men's Hair Colouring & Grey Blending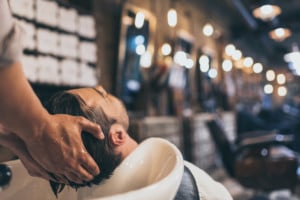 Sometimes you need more than just a great haircut to complete your look. Or maybe you're feeling adventurous. Either way, you've finally found a salon that is expert in colouring men's hair. If you're looking for balayage or ombre, you're probably in the wrong place. If you have no idea what those are but just want to cover some grey or explore a new look, then we're the salon for you. Like everything we do at 18|8 Elm Grove, our colouring services are designed exclusively for men. From the tools to the chemicals to the techniques, we're here to make sure you look your best. Our services include:
Grey Blending (starting at $35)
Want to cover some grey hair but still maintain that distinguished salt and pepper look? This is your answer. It's one of our more popular services – it's quick, easy to maintain, and provides a natural-looking transition that gradually fades over 4-6 weeks.
Hair Colouring (starting at $62)
Unfortunately, there have been enough box dye disasters to leave many men hesitant to try a proper colouring service. But there shouldn't be any shame in looking your best, and when you have your hair professionally coloured by our talented stylists you won't walk out with that artificial look. Whether you're looking to make a fashion statement, a subtle change, or just renew your natural colour, professional hair colouring is finally a service that men can feel good about.
Beard Colouring (starting at $37)
Don't overlook that facial hair. It's important to your overall look, and since it's often dryer and coarser than the rest of your hair it takes special attention to get it properly coloured and groomed. Don't waste your time trying to do this yourself when your 18|8 stylist can you give better-looking results with less hassle.
Highlights (starting at $62)
The days of frosted tips might have come and gone, but that doesn't mean that you shouldn't consider highlights. As men's fashion has matured, so have our options for using colour to enhance your look. If you're looking to add depth and dimension to your style, then highlights could be a great option for you.
Relaxer (starting at $40)
A close cousin of hair colouring is the chemical relaxer. While this service won't change the colour of your hair, it will alter the texture of your hair. We use a gentle formula that will provide moderate curl reduction and allow for a more manageable hairstyle.
More Salon Services for Men
If you're interested in more than our hair colouring services, we offer a full suite of salon and barbershop services. Try some of our other popular services and let us simplify your entire grooming regimen:
Visit the Men's Hair Colouring Aficionados of Greater Milwaukee
If you're scheduling one of these services and you'd like to expedite your visit to 18|8 Elm Grove, please download a copy of our chemical services waiver prior to your appointment. If you prefer to do it in person we'll have a copy waiting for you. And if you have any concerns, please feel free to give us a call at 262-910-0188. We'll be happy to answer any questions and/or schedule a brief in-person consultation with one of our stylists.
PHONE:
OUR LOCATION:
12898 W. Bluemound Road Elm Grove, WI 53122
HOURS:
Mon: 10:00 AM – 8:00 PM Tues: 10:00 AM – 8:00 PM Weds: 10:00 AM – 8:00 PM Thurs: 10:00 AM – 9:00 PM Fri: 10:00 AM – 8:00 PM Sat: 9:00 AM – 5:00 PM Sun: 11:00 AM – 5:00 PM
GALLERY
This error message is only visible to WordPress admins
Error: API requests are being delayed for this account. New posts will not be retrieved.
Log in as an administrator and view the Instagram Feed settings page for more details.