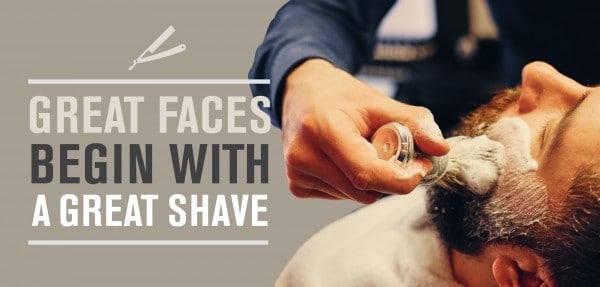 World-Class Haircuts, Shaves, & Grooming Services for Men in Carmel, IN
At 18|8 Carmel, we're more than just your neighborhood haircutter – we are your comprehensive partner in style. We spend hours discussing the finer points of an incredible haircut, we've searched far and wide to assemble the best team of stylists and barbers around, and we watch the trends in men's style and fashion like a hawk to make sure we provide you the best haircut every single time you come into our salon. Our mission is to make you look, feel, and perform at your very best – and we offer a suite of the best haircuts, shaves, face and scalp treatments, and other grooming services to help you get there.
A Classic Barbershop Experience
Here at 18|8 Fine Men's Salons – Carmel, we've recreated the classic barbershop experience – the same one your grandfather would have loved – and modernized it for the 21st century. When you first walk through our doors, you'll be greeted by a cold beverage from our stocked fridge and wide-screen TVs playing the big game. Your barber will then lead you to your own semi-private grooming station, where you'll get a haircut or grooming service that you'll swear was intended for royalty. When we're all finished and you walk out, you'll feel like a brand new man – and trust us, everyone in the office will notice. Get ready to enjoy the 18|8 experience and stop by to see us today!
Our Men's Grooming Services
Looking great takes more than just a haircut, and we offer everything you need to look incredible all year round. Our comprehensive list of grooming services includes:
Classic & Executive Style Haircuts

Undeniably Classic Straight Shaves

Rejuvenating Facial Treatments

Therapeutic Scalp & Hair Loss Prevention Treatments

Refreshing Hand & Nail Treatments

Waxing Services to Keep You Clean Cut

Hair Coloring & Grey Blending
Contact Your Barbershop in Carmel, IN
Nothing feels quite as good as a great haircut, and at 18|8, we give that feeling to people every single day. If you'd like to see what all the fuss is about, just give us a call at (317) 763-2188, reach out to us at our contact page, or book an appointment online at our Carmel men's salon. We can't wait to hear from you, and we're looking forward to helping you look, feel, and perform at your best.

$25 cancellation or no show fee will be assessed on all appointments that are not canceled 3 hours in advance. View our cancellation policy.
OUR LOCATION:
14550 Clay Terrace Blvd,
Suite 155,
Carmel, IN 46032
HOURS:
M-Th: 10am – 8pm
Fri: 9am – 7pm
Sat: 9am – 6pm
Sun: 11am – 6pm